In 1997, baseball's Midsummer Classic came to the city of Cleveland and with it came a new tradition that remains today. Each year since, Major League Baseball, through the All-Star Legacy initiative program, couples with a host city's team to give back to their community. This year that program comes full circle, MLB and Cleveland Indians will give $5 Million back to the community for several enrichment programs/projects.  
"With the Legacy Project for the All-Star game, they [Major League Baseball] are making a gift," said Cleveland Indians Director of Community, Rebecca Kodysh. "So, it's not just coming here and hosting the All-Star game and home run derby, MLB also makes a significant gift to leave a legacy to the city."   
Two of the projects are outdoor parks and both are field renovations. One of the fields being renovated is at Luke Easter Park and will now be called All-Star Field. The other field being renovated is Talty Field at Cleveland Metroparks Brookside Reservation. Both fields will include turf installs, but only the field at Luke Easter Park will include ShockPad/14, according to Kodysh.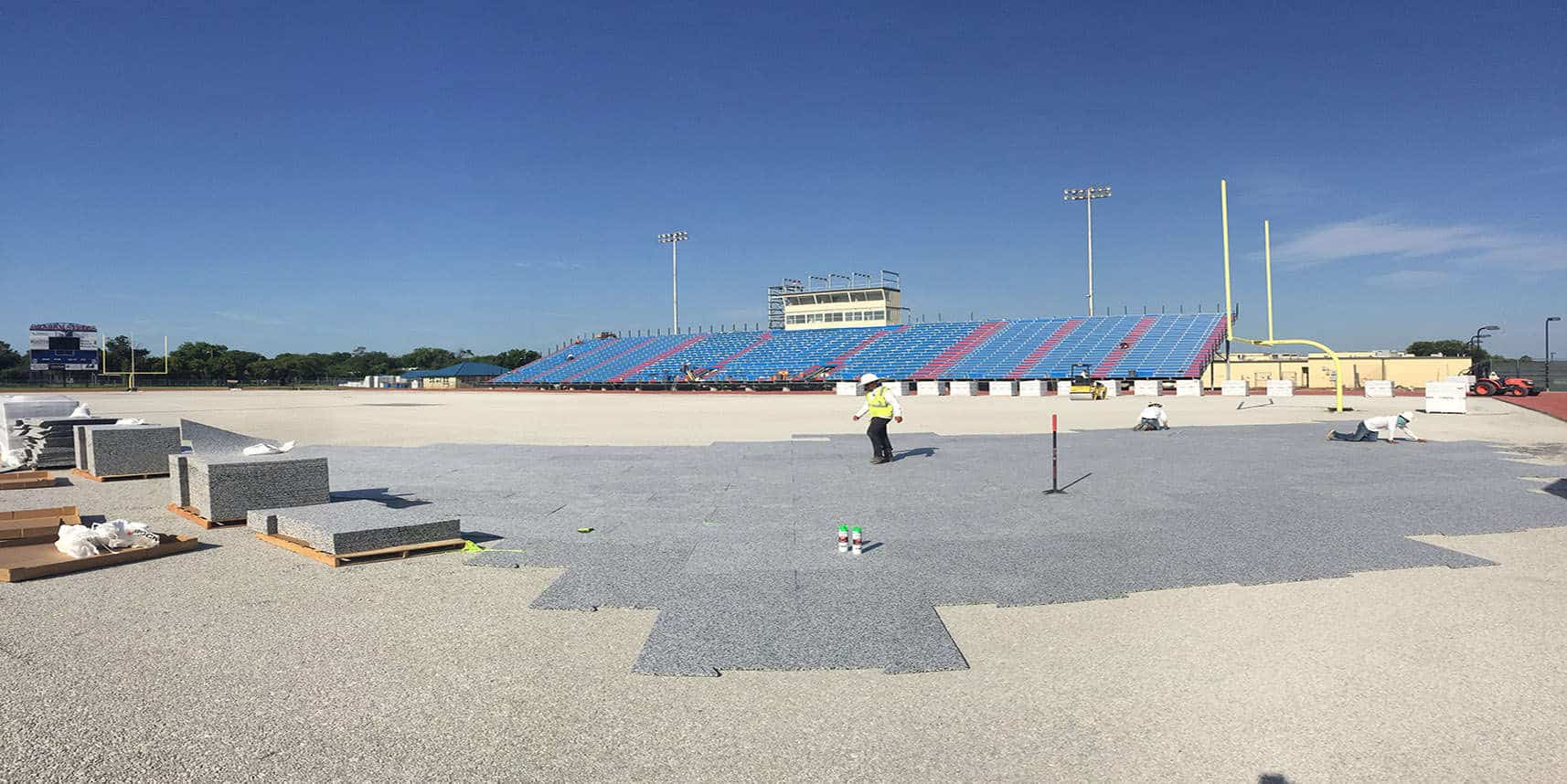 Part of the reason for using turf is because MLB and the city of Cleveland want it to be accessible for use year around, ensuring safe play regardless of weather conditions. By including a shock pad at Luke Easter Park, the MLB and Cleveland Indians have made sure that this field will stand the test of time while keeping its community safe. 
"The reason why we wanted to have shock pads installed is so we can get the most use out of the field and use it for multiple sports," said Kodysh.
There are many ways shock pads improve the condition of the sports surface. First and foremost, to reduce the risk of concussions it's important to make sure the safest system is in place. Another reason is that shock pads save money. A quality shock pad is a one-time investment that lasts multiple turf replacements. On top of that, turf lasts longer over a shock pad.  Pitches with no shock pad have been proven to wear out quicker than those with shock pads, as the pad primarily protects turf backing from abrasion caused by a hard surface such as stone or asphalt. 
"One of the tenets of our mission is to strengthen communities, so this is part of baseball's DNA," MLB's Vice President of Social Responsibility, Melanie LeGrande, said. "So to be able to work with the host club and leave a lasting impact after we're gone, after all the All-Star players have gone, after the game has been played, what Cleveland will have is two fully turfed fields where kids can continue to play our game, strengthen their skills, and be what we call 'Major League citizens.' So that's really important to us." 
The other two projects are both indoor, with the first being an All-Star Student Veterans Center at Baldwin Wallace University. This building will be converted from an old single-family home into a new facility with a lounge, gaming area, full kitchen, and bathrooms.  
The third project will be a Digital Arts Suite at the Boys & Girls Clubs of Cleveland's East Tech Teen Center. Brand new equipment and collaborative workspaces as well as new lounge area will be installed. This project will not only benefit the Boys and Girls clubs, but also the students of East Technical High School who will also get to utilize the space. The hope is that the retention rate in both the classroom and in Boys and Girls clubs will rise significantly.  
"The Boys & Girls Clubs of America is our official charity and we'll always do a project with them as well," said LeGrande. "To see the youth, the teams and the new East Technical Center, this visual arts suite we're putting together, to be able to be exposed to some STEM skills is great for us not just from a baseball perspective, but a community perspective." 
In addition to the main four projects, Larry Doby All-Star playground will also be renovated, receiving updated equipment and flooring. This is noteworthy because this park was originally constructed 22 years ago as part of the first ever Legacy Project Initiative during the 1997 Cleveland All-Star game.  
"The first legacy project was actually done here in Cleveland and were proud of that," said Kodysh. "The Cleveland Indians, historically, have been quite generous and we have been supported on youth baseball and softball programs for a number of years." 
A little background information about Larry Doby, he was the second baseball player to break the color barrier and the first African American in the American league. Just three months after Jackie Robinson went to play for the Brooklyn Dodgers, Doby signed with the Indians.  
Doby played for a handful of teams, but Cleveland was where he played his best ball and felt at home. He was inducted to the Indians hall of fame in 1966, the National Baseball Hall of Fame in 1998, and the Indians renamed the name of a street next to Progressive Field "Larry Doby Way" in 2012.  Larry stepped on the diamond in Cleveland for the first time in 1947, 72 years later and his legacy still lives on stronger than ever.