Test Devices
Three unique parts of the body produce different impact levels when contacting the surface, so 3 different test devices are used, each designed for a specific impact quality.
We don't make turf. We make turf safer.
Only infilled turf over a quality shock pad can reach player safety ranges found in natural grass.
We test because safety matters
It's only when quality shock pads are used beneath infilled turf that the safety levels of natural grass can be achieved for players. We know this from the data collected from the GMAX test, the HIC test, and the AAA foot impact test on fields of all types. This produces a complete picture of how the field is performing from an impact safety standpoint both when newly installed and throughout its lifecycle.
Head Impact Test
Head Injury Criterion (HIC)
The HIC test correlates with the likelihood and severity of a head injury. It has been used for decades in the auto industry and for playground surfaces, and was adopted by ASTM for athletic fields in 2018. The HIC impact test drops a 10.1 lb. hemisphere projectile (curved like a human head) multiple times from increasing heights and determines the surface's Critical Fall Height. The higher the Critical Fall Height, the safer the surface. A good natural grass field will produce a minimum critical fall height of about 6 feet or higher.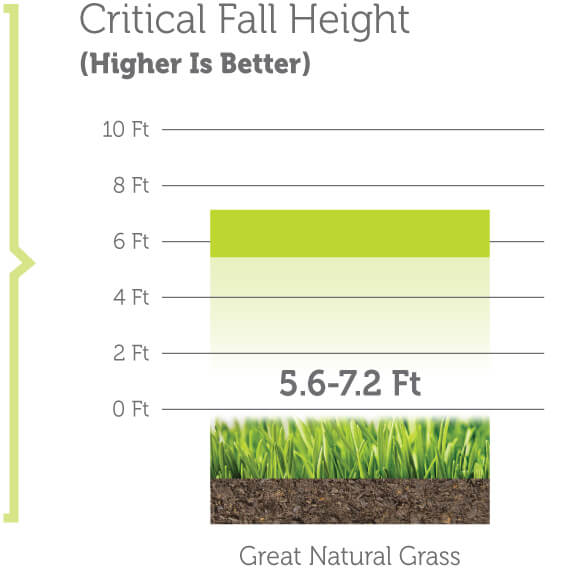 Surface Hardness Test
Gmax
The test method covers the measurement of surface hardness. It does not correlate with head injury. Landing on a harder surface transmits more energy to the body so common sense would tell you that a "softer" surface would be better. It's applicable to natural and artificial playing surfaces. It drops a 20 lb flat missile from 24″. Gmax is a good measurement when used in conjunction with HIC, but as a stand alone test it is not a total measurement of safety. A quality natural grass field will produce a GMax typically below 100 G's.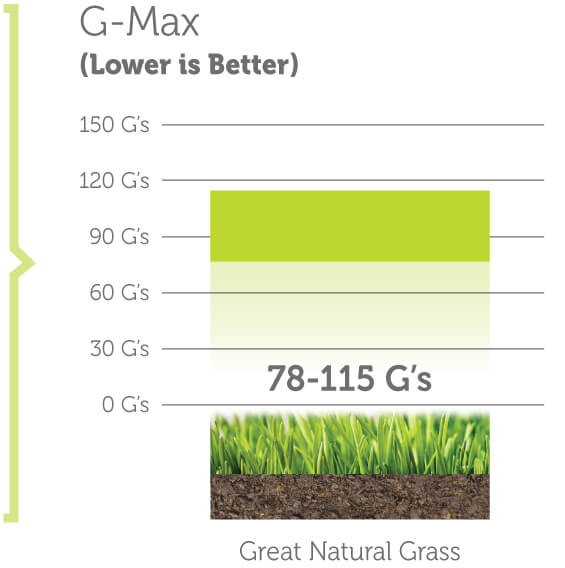 Foot Firmness Impact Test
Advanced Artificial Athlete Tester (AAA)
This test simulates the heel strike of an adult running athlete in stride. In other words, it measures the softness or hardness underfoot during play on a field. A great natural grass field hits the "sweet spot" of being firm underfoot while producing very low Gmax and high Critical Fall Height. This is why quality natural turf is the benchmark for quality artificial turf.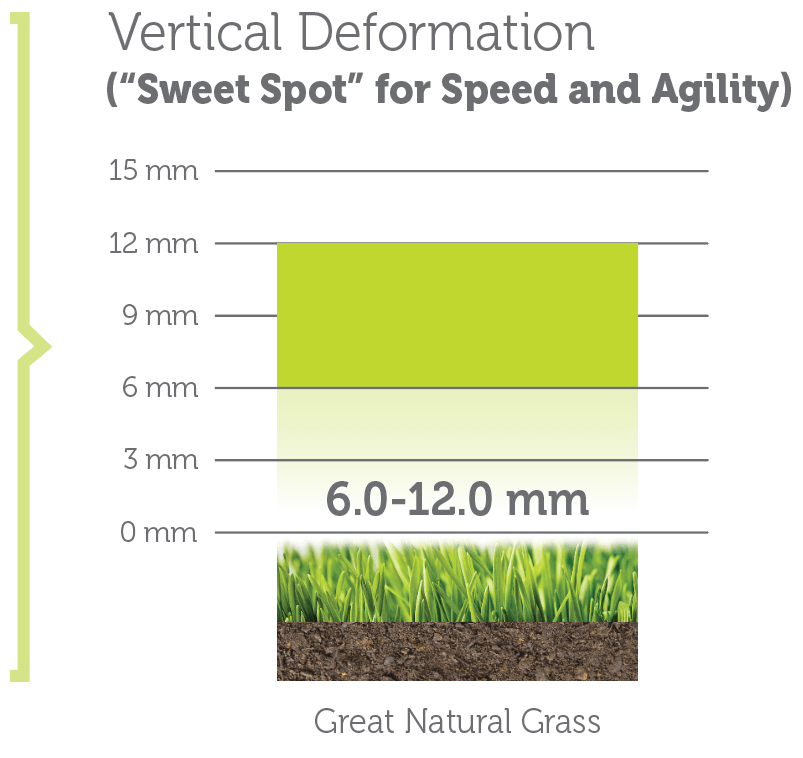 The Surface for Athletes
Achieving the proper performance levels for Impacts, Heat and Traction in a quality artificial turf defines modern sports surface design.
Through the application of multiple standardized tests, we're now capable of creating an artificial surface that closely mirrors natural turf like never before. The areas highlighted in green represent the performance parameters of premium natural turf. The radiating lines illustrate the performance outcomes of the artificial turf field systems outlined at the center. Remember, the height of the turf pile varied between 1.5"-2.0" and comprised products from each turf brand, yet all systems produced optimal performance.