A dream of almost 20 years became a reality in early 2023 when The Miracle League of the Okefenokee's "Field of Dreams" opened for play. The Miracle League provides an inclusive environment where children with disabilities can play baseball on a safe and accessible field, accommodating wheelchairs and other assistive devices.
This new field at Trembling Earth Sports Complex in Waycross, Georgia, is a unique innovation accommodating these very special athletes while also being built with the same quality materials as today's top professional and collegiate baseball systems. The Miracle League of the Okefenokee, working with Sports Turf Company, chose an AstroTurf system with 2″ blended fiber and RootZone, Brock PowerBase YSR shock pad, and BrockFILL infill.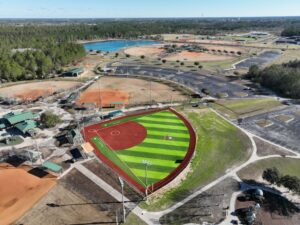 The field is ADA Compliant, meaning it is firm enough to support wheelchairs, the field's primary use. The shock pad means if a player takes a hard fall, the field is able to absorb their impact better. Unlike many rubber-infilled baseball fields, this system plays more like a well-maintained clay and grass baseball field as far as ball hop, ball roll, and sliding. BrockFILL is 30-50o F cooler than fields with black rubber infill, so play is enjoyable even in hot Georgia summers. BrockFILL also provides exceptional foot stability reducing the likelihood of ankle and knee injuries.
"This project has been in our dreams for almost 20 years, and our entire community is thrilled to have a safe, dry, and fully accessible field for our exceptional, special-needs, and tee-ball players to play baseball," said Miracle League of the Okefenokee Board President Berry Tanner. "Ware County and Sports Turf have been great partners in helping us build our 'Field of Dreams,' and we know it will make a long-lasting, positive impact."
In the past, the way of building wheelchair-accessible fields was to use rubber granules, like surfacing used on a track, or indoor/outdoor type carpet over concrete or asphalt. Parks and rec organizations are increasingly looking for better alternatives that aren't limited in their use to only players with disabilities. The new Ware County field will also be able to host tee-ball games when not scheduled by Miracle League.
"I was grateful to attend the ribbon cutting and experience the support of the entire community for some very special athletes who will be playing on the field," said Brock USA Southeast Region Vice President Scott Powers. "One of the presenters at the ribbon cutting pointed out that as much as a special needs athlete appreciates being able to play the sport they love on a surface that meets their specific needs, they'd rather just be able to play on the same field everyone else does. This field does just that. Experiences like that remind me of why we do what we do every day."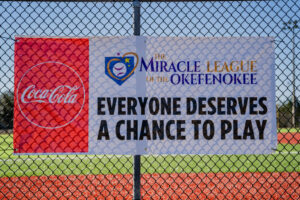 The Miracle League of the Okefenokee is a non-profit organization founded by parents and caregivers that provides opportunities for children with disabilities to play baseball and socialize with their peers. The league was founded in 2013 and is located in Waycross, Georgia, near the Okefenokee Swamp. The Miracle League of The Okefenokee is part of the larger Miracle League organization, which has over 250 leagues in the United States and abroad. Brock USA looks forward to helping many other communities learn how to make this type of field available for their Miracle League organization.
ABOUT BROCK USA: Brock USA was founded in 1998 as a source for player safety products. Today, our mission remains the same: To protect the athlete and protect the game by inventing innovative products for artificial turf backed by science, research, and education.