"Over the last 7 years, Mira Costa High School had been in need of a major overhaul of its practice fields. This year, they're enjoying an athletic footprint that's beautiful, well expanded, functional, and environmentally friendly. Last fall MBX (an athletic, performing arts and extra-curricular foundation) and the school partnered to construct a unique multipurpose field. During this time the Baseball Booster Club decided to replace its old turf. Both fields feature cutting edge turf technology and the reviews have been glowing.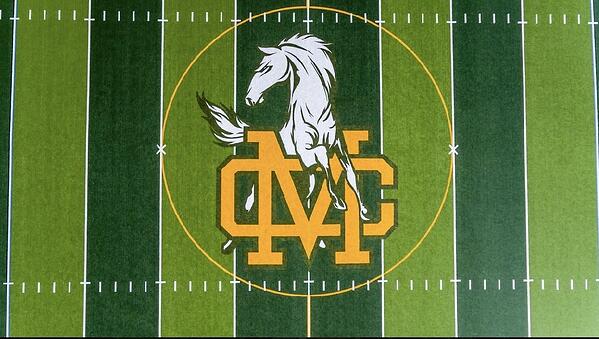 Mira Costa West Field, the new multi-sport field on campus, is the distinctive centerpiece. The custom-design field employs over 145,000 square feet of AstroTurf's Green Series DT synthetic turf. This high-end product utilizes a dense matrix of slit film fibers and AstroTurf's patented RootZone sub-layer for maximum durability. Foregoing traditional crumb rubber infill, the DT system uses ZeoFill, an organic material made from a mineral found in vitamins and water filters. The corner of the new multi-purpose field incorporates a baseball practice field as well with AstroTurf's Diamond Series and GreenPlay infill. The two systems come together seamlessly at the baseball's infield.
Both synthetic turf systems are buttressed by a Brock pad for increased shock absorbency. Mira Costa West Field enjoys a two-tone color palette and is lined for use by football, soccer, lacrosse, baseball, softball, rugby, discus, and marching band.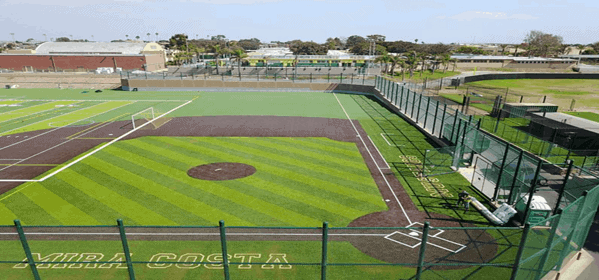 "The field is amazing – it's been everything we researched and hoped it would be and then some. Ever since Eric and I visited the headquarters in Dalton, Georgia, we've been impressed with their commitment to quality and excellence. My follow-up visit to inspect our materials during fabrication only supported this belief as they walked me through many quality control measures and check-points," said Johnnie C. Morgan, founder of Coastline Construction Management, Project Manager, and Turf Consultant for the MB/X Foundation, a foundation that supports Manhattan Beach Unified School District, with their growing motto "Beyond the Classroom."
Of course the "Eric" he is referring to is none other than Dodger legend and current Fox MLB analyst Eric Karros. The 1992 National League Rookie of the Year and LA's all-time home run king has been an integral part of the athletic renovations at Mira Costa High School, whose hallways have been occupied at various times by his three children. The resurfaced baseball field is now one of the premier high school baseball facilities in Southern California."