Hart Park's stadium field in Wauwatosa, Wisconsin served as Forward Madison FC's new home field for the 2020 season. FMFC, a professional soccer team competing in the United Soccer League 1, had to leave their home at Breese Stevens Field due to increased Covid restrictions in Dane County, Wisconsin, which prohibited full contact athletics. Luckily for fans, with some collaboration between the team and city of Wauwatosa, it was off to Hart Park for Forward Madison.
"In times in which events need to function differently for public health reasons, we're proud to be welcoming a professional soccer team to Wauwatosa's Hart Park stadium and encouraged by the multiple public health measures they're taking," said Wauwatosa Mayor Dennis McBride. "Fans and visitors to Wauwatosa can look forward to these fast-paced, energetic games while being safe in our community."
Hart Park's turf field was just replaced towards the beginning of 2020 in July. The surface is designed for multiple different sports and features Brock USA's all organic infill BrockFILL, now a USDA Certified Biobased Product, along with an SP Series SP17 shock pad beneath the surface. The turf sitting on top of the pad is Midwest Sport and Turf Systems MST Pro-Blend turf.
"Hart Park needed a durable system seeing it is probably the most played on and practiced on field in Southeast Wisconsin," said Ryan Anderson, vice president of sales for Midwest Sport & Turf Systems. "We are glad they chose our high quality turf and elite service. Most importantly, parents can be confident that their kids are playing on one of the safest turf systems in the state."
Hart Park is not only one of the safest fields around, but according to some members of Forward Madison FC, one of the best performing fields as well.
"This field is much better than other turf fields around here," said Eli Lockaby, defender for Forward Madison FC. "It's cooler, it's smoother to play on, it's easier to run on and I get less sore. When it gets wet you can tell it absorbs the water a little bit and cools down the field and lets it play smooth. So, I personally like it better than any other turf field.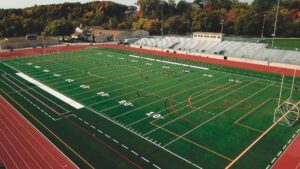 Most of the Forward Madison FC players mentioned the heat reduction qualities of the wood infill being huge plus at Hart Park and that the lack of abrasion of the infill that went along with it was a massive added bonus as well.
"One of our guys has probably slide tackled 50 times on this field — Eric Leonard — and you notice that his legs have no burns on them. So that tells you something about it," said Jim Launder, assistant coach for Forward Madison FC. "Everybody thought when they came out and saw the wood chips that it was going to be like 'holy mackerel!' this is going to kill you. But it is probably the opposite, it is actually kinder on you in many ways."
Initially, many players were concerned about having a wood infill due to possible abrasion issues, but those fears quickly dissipated after a few practices and games proved otherwise.
"For me it was kind of weird coming here at first because it is wood chips and not the traditional rubber beads. But the ball rolls significantly similar to natural grass and I think it is one of the better turf fields I've ever been on," said Brandon Eaton, midfielder for Forward Madison FC. "I know when we train on a rubber field on a hot day it feels like at least 50 degrees hotter then it really is outside. I feel the wood chips give a cooler feel than the traditional rubber."
Forward Madison FC Midfielder JC Banks added to the heat conversation as well,
"In Rochester, we had turf and it used to get pretty hot and someone's shoes actually melted on our field at one point just because it got so hot. It usually gets hotter on the old rubber turf and I didn't feel that too much here. When we were here in the warmer months, it didn't seem nearly as hot on the field and I liked that a lot."
Along with the wood infill performing well, the environmental implications of having a wood infill were huge for the designer of the field as well.
"Sometimes new innovations come out and people are very skeptical, they don't want to try it unless someone else has done it and it's been proven. With this product, the Brock infill, I was so impressed by the amount of testing it went through and the comparative analysis to other products, it just really blew me away," said Joe Pepitone, landscape architect at GRAEF in Milwaukee, WI. "Was there some trepidation – of course – we are trying something new. But I think the Hart Park project was the second field that we've done (with BrockFILL), and the feedback has been nothing but positive. It was difficult not to say that this is a better product even if it is a new product. And the sustainable factor is big for me as a designer as we are always looking at sustainable solutions. As a landscape architect it is extremely important for me to be considering that – to protect our environment."
While Forward Madison FC winds down its season, the uncertainty of where their next home field will be looms.
"Obviously, our hope is to figure out how we can do it in Madison," Forward Madison FC chief operating officer and owner Conor Caloia said. "All of our effort, all of our focus is trying to figure out a way with the health department that they'll allow us to return to Breese Stevens Field and hopefully do it in a manner that's safe."