In many countries now, the number of pitch refurbishments is significantly higher than new pitch installations.
This dynamic supports the fact that for the private owner, council facility operators, sports club, or a contractor, a feasibility study to assess the reuse of a shock pad is key to realizing the budget and increases the probability that refurbishment plans can move forward. Only a laboratory with accreditation and the appropriate testing facilities can provide an independent, non-commercial statistical analysis to assess refurbishment project costs with accuracy. Commonly these results are requested by governing bodies and should be appended to the new field reports. Without this step, many contractors are apt to price without any knowledge of what lies beneath the surface, thus creating a risk of sudden budget increases during installation and cost overruns. Without this, it would be wise to carry a significant contingency fund to cater to what lies beneath.
The main problem during the feasibility stage is that the existing facility may still be in use, perhaps leased out as a revenue generator, and most commonly, artificial grass will be covering the shock pad. There is a solution to this problem, and it's exercised frequently – it's a requirement as per governing body specifications. It is part of the FIFA Quality Programme and the Handbook of Test Methods for Football Turf.
Below are some photos of examples of in-situ sampling of shock pads which demonstrate the type of testing carried out.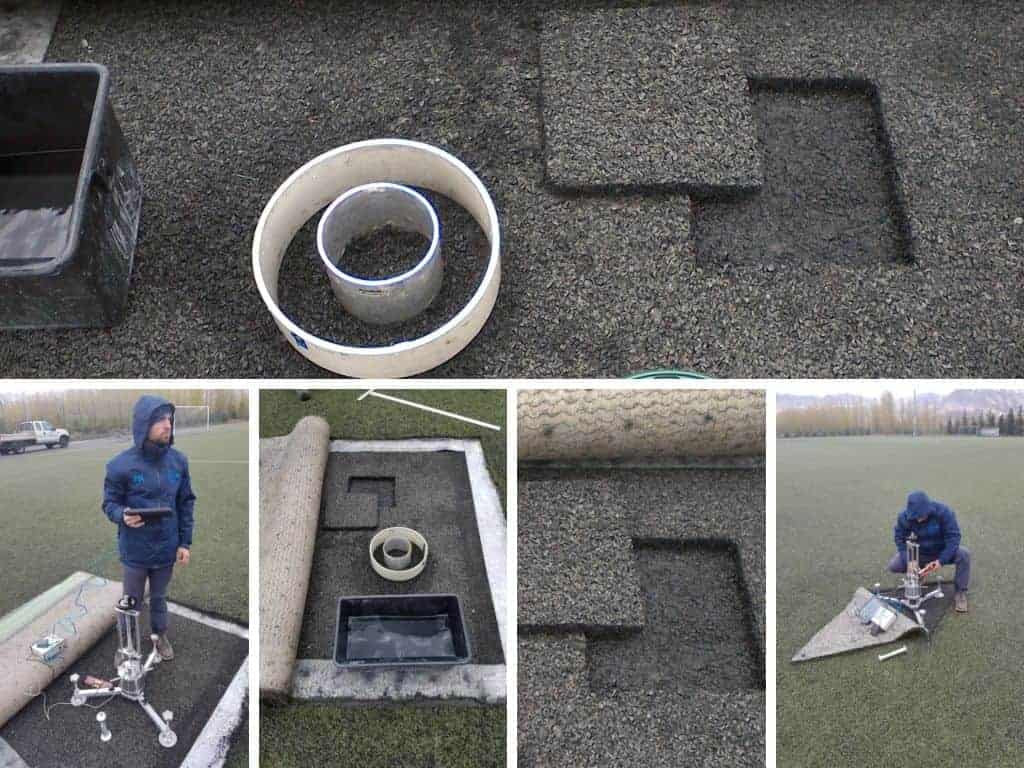 Here we will look at the type of shock pads that are commonly sampled as well as mandated testing via FIFA, forensic testing, the costs associated with undertaking inspection, and the time required to complete everything.
Type of Shock pad: In-situ or Prefabricated?
Every shock pad is a candidate for reuse and a feasibility study. The two common types of shock pads are in-situ and prefabricated. In-situ (or e-layers) comprise a mixture of PU binder and granulated rubber crumb and are laid on-site; occasionally, the PU/Rubber can be mixed with clean stone to change the properties of the shock pad. For In-situ, a shock pad's long-term performance is dependent on many factors such as binder content, SBR shape, size, chemical composition, and contaminant, to name a few. In-situ/e-layer type shock pads naturally degrade over time due to oxidation of the thin binder film, which sticks the rubber granulate together. Even under normal stress, they lose their tensile strength and elongation properties. Sometimes the life expectancy of in-situ pads is not reached, and the binder contents are not always to contract. As a rudimental assessment, if loose rubber is visible on top of the pad, there may be underlying issues, and the pad could be failing. It's also a concern if the shock pad is brittle. In several recent projects, we have seen carpet bound with glue to the shock pad, and this diminishes the chances of its reuse as it is challenging to remove the existing carpet without extensive damage to the In-situ.
Prefabricated shock pads are made with a variety of different material types, density, thickness, shape, and design. They are typically manufactured in a plant and transferred to the site, where they are laid loosely and jointed in several ways — butted together with jointing tape, a key link design, or tongue and groove design, to name a few. Most pads are constructed from bi-product PE, PU, or expanded PPE, but due to heat expansion properties, they may require slits or grooves to prevent disruptive expansion and contraction from temperature changes. Many large producers have evolved to optimize their designs to the European, ASTM, Italian, and Dutch standards. There are now ESTC guidelines that are very descriptive.
Prefabricated shock pads generally have a longer life expectancy, with some manufacturers offering warranties beyond 20 years. Always be sure to check the warranty on these shock pads when considering budgeting for a refurbishment.
Testing Table
FIFA Manual Extract
"Despite practical implications when a turf has not yet been replaced, it is not acceptable to determine the suitability based on the values obtained from testing the corner areas only. Tests shall be made no sooner than 12 months before the initial field test after resurfacing. The results of the shock pad tests shall be appended to the FIFA Field Test Report and issued to FIFA following the initial field test. Compliance with the above requirements does not override the need for the field to fully satisfy the field test requirements of the FIFA Quality Programme.''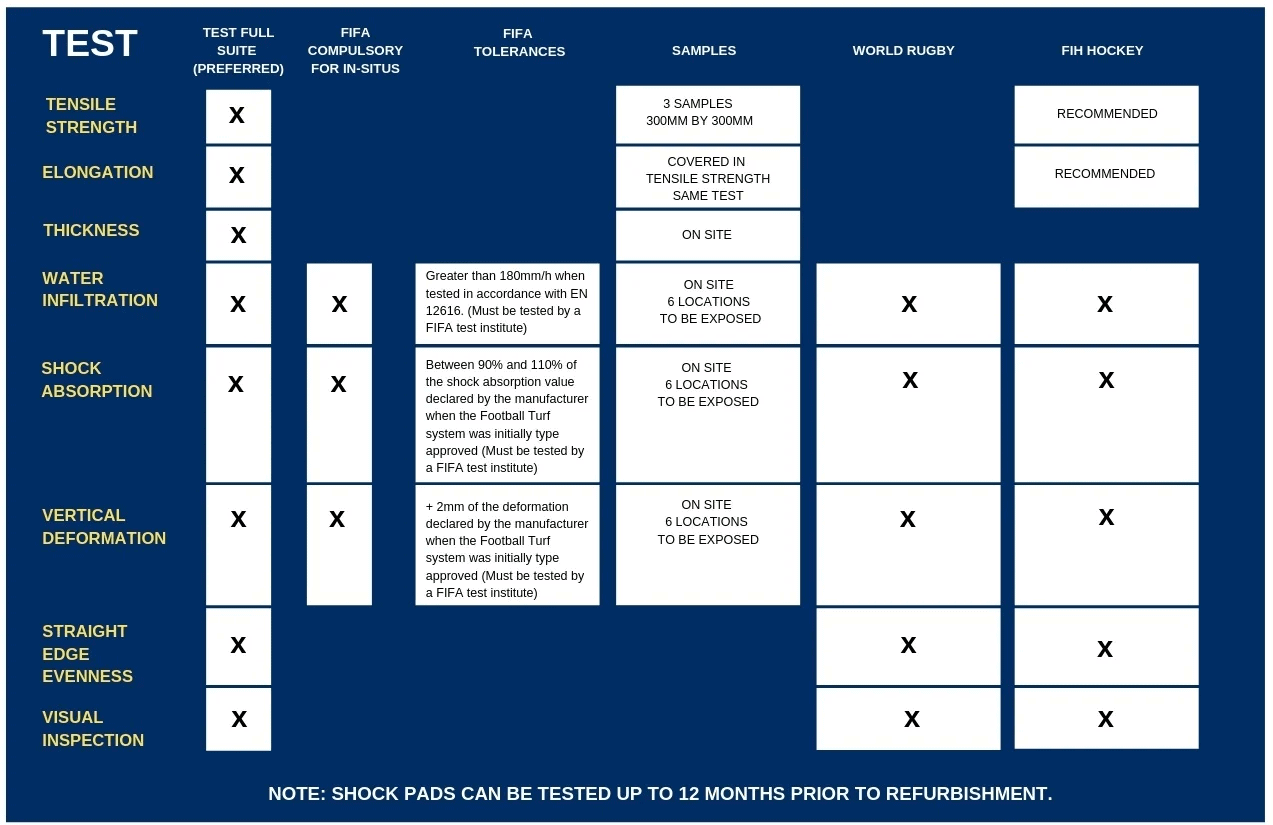 Costs
A feasibility study on the shock pad will vary depending on the work scope, which is generally carried out on-site in under one day. Samples are then taken back to the laboratory for further examination of tensile strength and elongation properties. Half a day's work for a competent test technician in a laboratory to complete these tests. Often the turf system will need to be cut open to allow access to the underlying shock pad. This is a specialist activity, especially if the pitch is still in use. Here, an Installer would be called to open and close the turf so that proper joints are made on the playing surface. In comparison to buying a new shock pad and perhaps repairing the asphalt, the costs of a site assessment are a fraction of these, which makes it a cost-effective approach to de-risking your refurbishment contract. Exclusive of international travel, an in-situ inspection is typically less than 1% of the cost of a new shock pad, making it a very cost-effective approach to assessing the reusability of a shock pad system.
Test Locations
FIFA requires 6 test locations, as seen below in Figure 2. This is compulsory for FIFA Quality Pro or Quality certification. Many projects proceed without this, unknowingly stepping outside the rules and quite regularly experiencing problems after refurbishment during certification testing.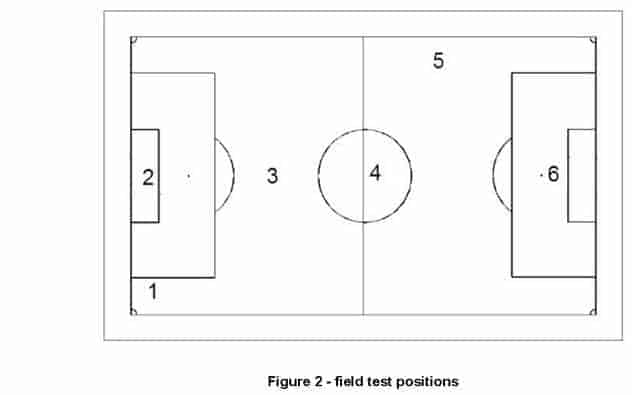 Reinstatement of the Surface After Testing
A competent maintenance contractor, or commonly an interested contractor for the refurbishment, can reinstate the 1m2 areas on the field straight after the test. Glue and new seaming tape are needed with the original carpet being re-used. Again approximately half a day's work for a competent site installation contractor. Time is required for the glues to set, so this may put your pitch out of action overnight. The key is knowledge of how and where to make the clean carpet cut, so the repair is much easier after testing is complete.
Feasibility is Value Engineering
Whenever it's possible, it is always good to re-use suitable components because it reduces the carbon footprint and ultimately cost. There's a wealth of knowledge available on this subject and protocols you can follow to benefit your project.
Thank you Niall MacPhee, International Business Development Manager at Sportslabs, for writing such a great article!